Berks Ag Event Calendar
Find your next event here, from credit courses to weekend family fun! This calendar is a community effort to benefit farmers and non-farmers alike! Browse events by photo tiles, list, or calendar view. Search by titles, topics, audience or other criteria. Click the event title for more details on each event.

B.A.R.N.OPOLY Kick-off Event
June 19 @ 5:30 pm

-

7:30 pm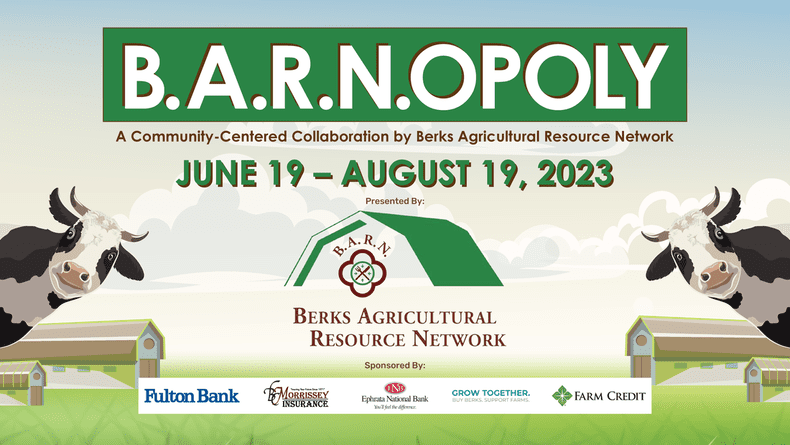 B.A.R.N.OPOLY Instructions & Rules:
Register to play HERE! Pick up a physical game board at our Kick-Off Event on Monday, June 19, 5:30 p.m. to 7:30 p.m. at Lily's Vineyard on Skyline Drive OR any participating location (while supplies last). Boards should be available at all locations by Saturday, June 24. Visit and shop at as many participating locations as possible from Monday, June 19 through Saturday, Aug. 19 to collect stamps on your board. Earn BONUS points by creating posts on Facebook and Instagram to share your experiences with friends and family. Use #barnopoly so we can find your posts! ​If you're not a social media person, you can still get extra points when you email us some pictures and tell us all about your experience. We'll then post it for you on our page!
Complete the following challenges to earn points:​
Check in, tag and give shouts to your favorite locations.
Write about a fun experiences or stories from your B.A.R.N.opoly adventures.
Show us the great local products bought.
Tell us something you learned about farming, production, or anything else you found interesting during your B.A.R.N.opoly travels.
Share a recipe or meal that you made with local ingredients. Where did the ingredients come from?
Check your email for announcements and additional special challenges (to earn even more points) through out the summer.
Have fun!
When the game is over, submit your board. Turn it in at the Wrap up Celebration on Saturday, Aug. 19 (location TBD) OR take a picture and email to b.a.r.n.berks@gmail.com by Sunday, Aug. 27 to be entered to win great ag-related prizes.
No purchase necessary (but support of the participating sites by buying something is highly encouraged).
One stamp per location per card.
Local products & gift cards will be awarded to top players.
Prizes awarded based on the number of stamps collected plus the number of social media posts and completed challenges.
Award will be given for most creative social media.
Do you have other Ag and local business lovers in your life? Encourage them to play, too, and challenge them to see who can visit the most locations!
​
Have fun and good luck!
The B.A.R.N. Team
Please direct any questions to b.a.r.n.berks@gmail.com.