Berks Ag Event Calendar
Find your next event here, from credit courses to weekend family fun! This calendar is a community effort to benefit farmers and non-farmers alike! Browse events by photo tiles, list, or calendar view. Search by titles, topics, audience or other criteria. Click the event title for more details on each event.

Taste of Hamburg-er Festival
September 2 @ 10:00 am

-

6:00 pm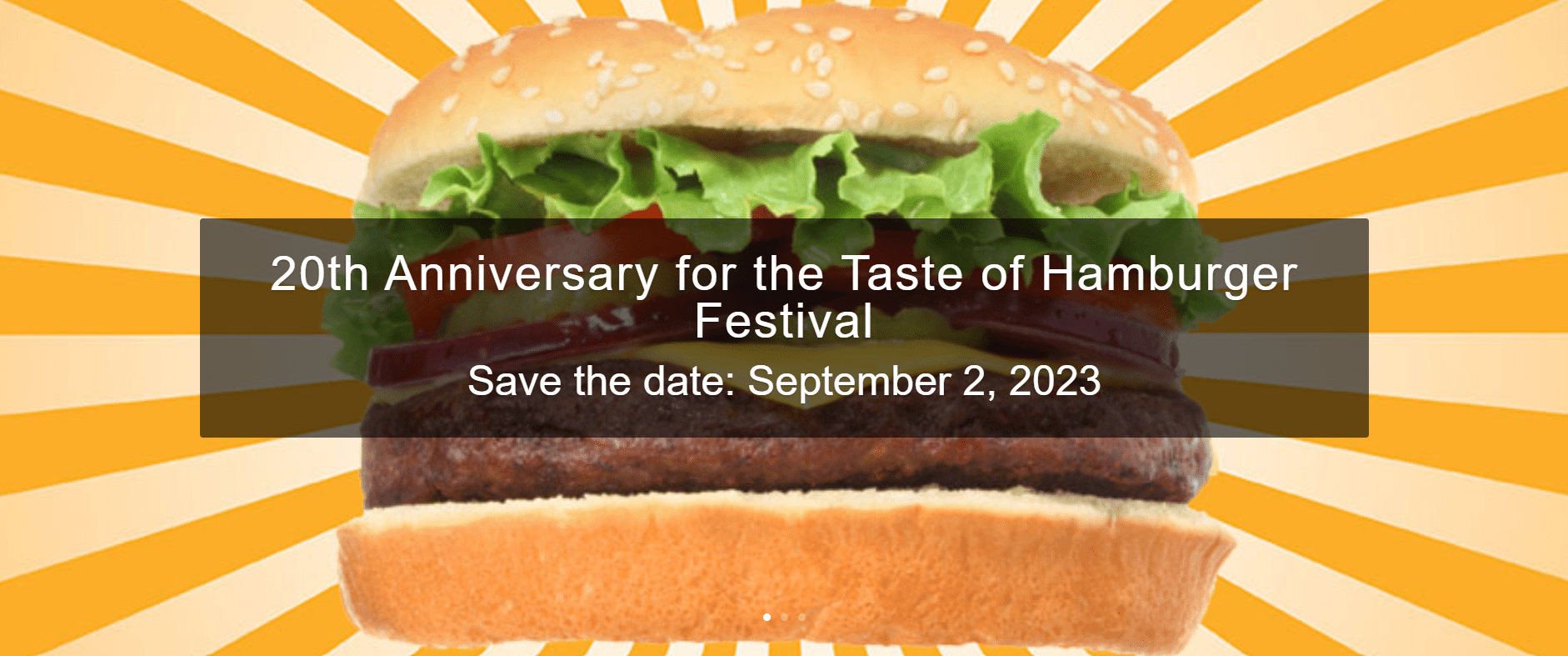 We are looking forward to the 20th Anniversary for the Taste of Hamburger Festival! Feel free to browse around… but be warned: you WILL get hungry. The Hamburger Festival takes place on Saturday, September 2, 2023, from 10 am to 6 pm, in Hamburg, PA, situated in the beautiful foothills of the Appalachian Mountains. This family fun event attracts people from all over the east coast and beyond, because each year we beef up the festivities!
In fact, you really won't want to miss this year's festival. It will feature the Professional Burger Eating Competition! On top of that, you can expect 40 hamburger stands, 4 stages of non-stop musical entertainment, numerous contests, children's activities, local art and handmade crafts, and lots of other fun too! Check out the burger stand menu to decide what you want ahead of time! And to quench your thirst after eating all those burgers, stop by the Beer and Wine Patty-O or the Budweiser & Burgers Beer Garden. Beer gardens remain open until 7 pm! During the festival, visit the hospitality table to pick up your festival program guide which lists all the participants and event schedules.
Directions to the festival:
The Taste of Hamburger Festival is held in the center of downtown Hamburg, PA which is located at the crossroads of Interstate 78 and Route 61. If you are using a navigation system, please enter 2 South 4th Street, Hamburg, PA 19526. This is the central location of the event.
When traveling North or South on Route 61, you can take any of the Hamburg exits and follow signs to designated parking areas.
When traveling west on I-78, you can either take the Lenhartsville exit and make a right at the end of the ramp. Travel to the T and take another right at the intersection. Drive approximately 5 miles to the festival.
Or
take Hamburg exit #30
When traveling east on I-78, take Hamburg exit #30
Parking:
When you arrive at the festival, parking is available in several designated areas for a nominal fee of $5 per vehicle. Parking areas are located at the Hamburg Area High School and Hamburg Area Middle School (701 Windsor Street), a lot between State Street and the Schuylkill River (137 Schuylkill Avenue) and the Hamburg Field House located at the rear of 127 South 4th Street (parking lot entrance is off of Pine Street). To accommodate guests, there will be additional parking available at the Berks County Intermediate Unit facility (3570 Old Route 22) and the Bridge Church (3561 Old Route 22). Please note the parking area available in past years at Front and Grand Streets will be closed for this year's event. While a few of these lots are a short distance from the festival area, continuous shuttle service will be provided. However, the shuttles are not equipped to accommodate wheelchairs. (See handicap parking)
For those traveling north and south via Route 61, the Hamburg Area High School and Middle School are your better choice.
For those traveling west via I78, the Berks County Intermediate Unit and Bridge Church parking would be the better choice. Take the Lenhartsville exit off of I78 and turn right on Route 143. At the stop sign, make a right and continue to travel west on Old 22 for 4.6 miles.
For those traveling east via I78, take the Route 61 South exit, and travel a short distance to either the Grand Street or 4th Street Hamburg exits, and follow the signs for festival parking.
If you would prefer to find your own free, on street parking, we suggest that you get to the festival early because the spaces go quickly!
Handicap Parking:
Handicap parking is available at the following areas:
Hamburg Municipal Center located at 61 N. 3rd Street. Entrance to the lot is from Apple Alley, which can be accessed from Island Street. There will be no entrance to the lot from 3rd Street as it will be blocked with vendors.
First United Church of Christ located at the intersection of 3rd & Pine Streets. Entry to the parking lot must be made from Peach Alley.
There are handicapped spaces at the Hamburg Field House located at the rear of 127 S. 4th Street; however, the shuttle from that lot is not equipped to accommodate wheelchairs. Entry to the parking lot is made from Pine Street.
Handicapped guests are also welcome to be dropped off at the blocked intersections; however, your vehicle must be moved immediately to one of the parking lots.
Only guests with handicapped placards will be allowed to park in the designated areas. All others will be towed at the owner's expense.
Enjoy your visit!
There is so much to do in and around the Hamburg area. If you are looking for area accommodations, attractions, events, shops and more, please visit our Hamburg website: www.hamburgpa.org.
We hope you enjoy the festival as much as we do. It's truly a special time around Hamburg. Please have fun and leave full!