Berks Ag Event Calendar
Find your next event here, from credit courses to weekend family fun! This calendar is a community effort to benefit farmers and non-farmers alike! Browse events by photo tiles, list, or calendar view. Search by titles, topics, audience or other criteria. Click the event title for more details on each event.

VIRTUAL LIVE WEBINAR: Cooking for Crowds: A Volunteer's Guide to Safe Food Handling
November 7 @ 6:00 pm

-

9:00 pm

$5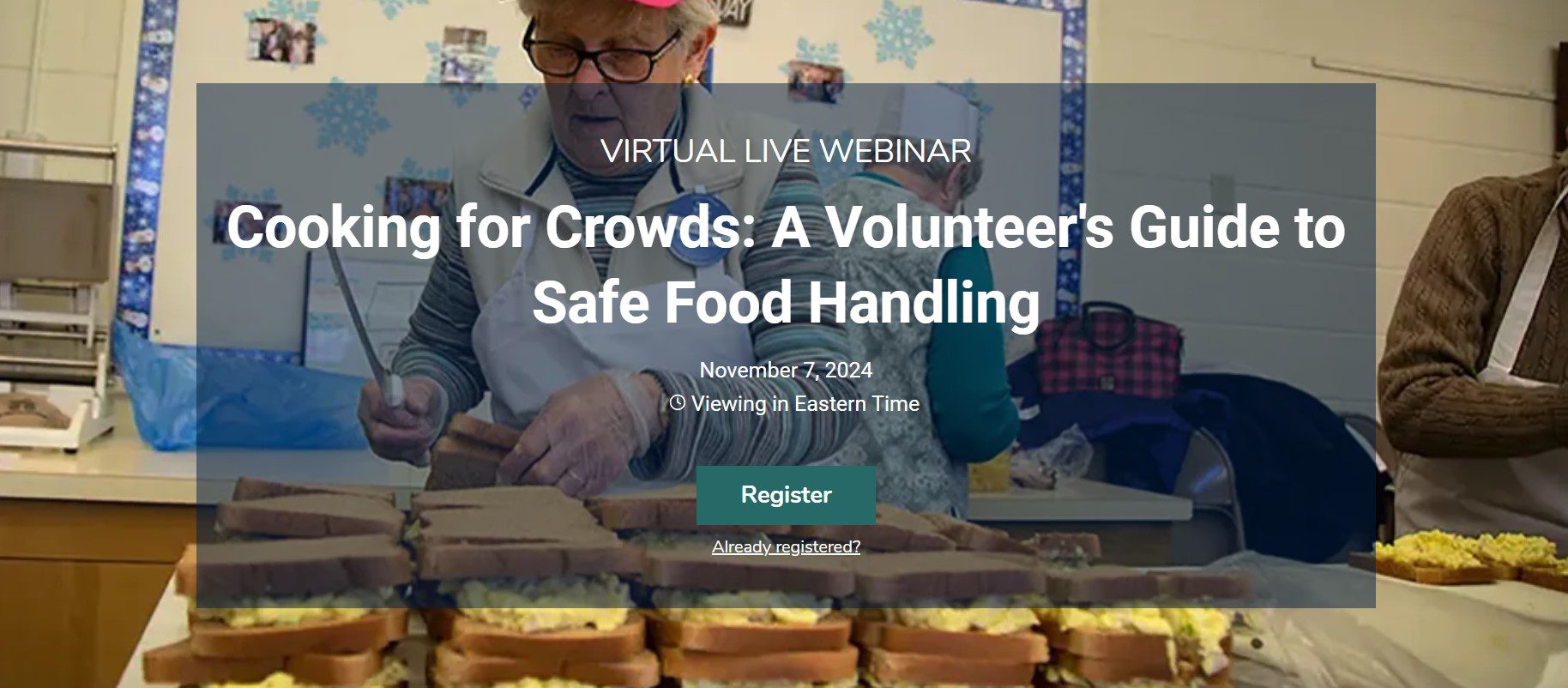 ABOUT THE WEBINAR
Preparing food in large quantities is different than food preparation in the home. Cooking for Crowds: A Volunteer's Guide to Safe Food Handling program helps non-profit organizations and their volunteers understand the risks involved with preparing large volumes of food and the important food safety practices that need to be implemented to ensure a safe event.
EVENT DETAILS
This informative webinar program equips non-profit organizations and their volunteers with essential knowledge about safely preparing large quantities of food for events, ensuring both safety and success.
WHEN
Nov. 7, 2024 | 6 p.m. – 9 p.m. ET)
Who is this for?
The program is geared toward volunteers preparing food for events such as church fundraisers, fire company barbecues, booster club food sales, and the many other types of events where food is served to the public.
What will you learn?
Volunteers will learn the causes of foodborne illness as well as safe food handling practices related to:
Preventing Cross Contamination
Controlling Time and Temperature
Good Personal Hygiene
Cleaning and Sanitizing
Planning a Successful Food Event
Even if your organization has been doing this for years, things change and it is important that volunteers are up to date and knowledgeable about rules and regulations governing food safety. Don't risk your customer's health or your organization's reputation.
Cooking for Crowds: A Volunteer's Guide to Safe Food Handling was developed in collaboration with the Pennsylvania Department of Agriculture.
Penn State Extension educators and other faculty serve as instructors and are certified by the National Restaurant Association. All have received training on the most current research on food safety.
Registrants are strongly encouraged to purchase the Cooking for Crowds Manual. See the Manual Information tab for more information.
Registration is required to receive the link to access the webinar.
Registrants will also receive access to the webinar recording.
Register By
Nov. 1, 2024, 11:59 p.m.