Berks Ag Event Calendar
Find your next event here, from credit courses to weekend family fun! This calendar is a community effort to benefit farmers and non-farmers alike! Browse events by photo tiles, list, or calendar view. Search by titles, topics, audience or other criteria. Click the event title for more details on each event.

VIRTUAL LIVE WEBINAR Earn While you Learn – Animal Science Apprentice Program
December 18 @ 12:00 pm

-

1:00 pm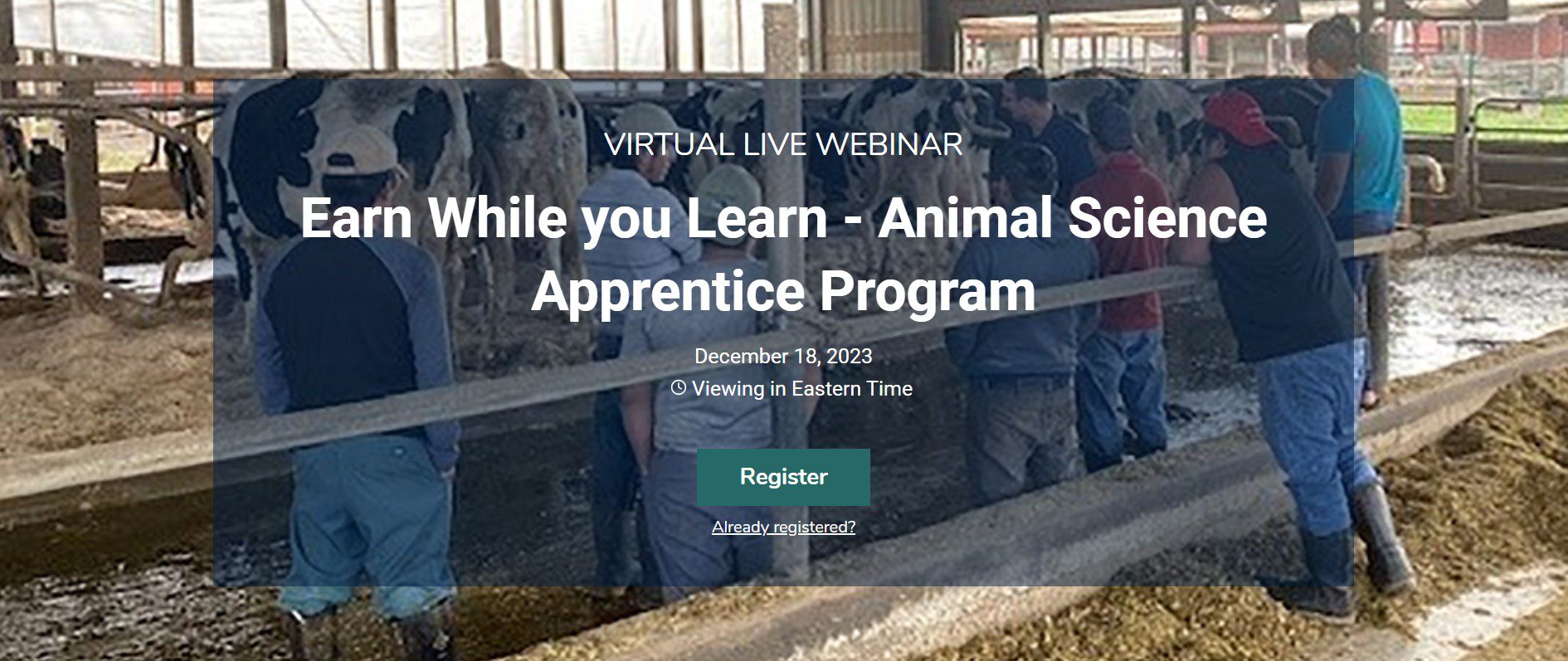 ABOUT THE WEBINAR
Earn While You Learn – Animal Science Apprentice Program will provide an overview of the Penn State Extension Animal Science Apprentice Program (ASAP). This program is designed for high school graduates (18 or older) looking to enter the workforce or for adults of any age looking to make a career change to livestock production. If you are interested in working with animals and developing skills to create a fulfilling career in the animal science industry, then this might be the opportunity you are looking for.
EVENT DETAILS
This free one-hour webinar will detail the ins and outs of the Animal Science Apprentice Program.
WHEN
December 18, 2023
Noon – 1 p.m.
Program apprentices are hired to work full-time by a partnering employer. In addition to hourly wages, participants will receive 147 hours of industry-specific training along with quarterly wage increases for the first year. The first ASAP class is scheduled to begin in February 2024. We will accept applications for the program during the webinar.
Who is this for?
Career seekers who are 18 or older and their families
People interested in working in animal systems positions
4-H and FFA students interested in careers in agriculture
What will you learn?
What is an Apprenticeship?
What are the parts of the ASAP Program?
What is expected of an Apprentice?
Examples of jobs in the industry?
Qualifications to apply
PROGRAM SPONSORS
Animal Science Apprentice Program is a partnership between Penn State Extension, a PAsmart grant from the Department of Labor and Industry, and Animal Agriculture producers in Pennsylvania.
This event is being offered at no charge to participants.
Registration is required to receive the link to access the webinar.
Registrants will also receive access to the webinar recording.
Register By: December 18, 2023 1:00 p.m.