Berks Ag Event Calendar
Find your next event here, from credit courses to weekend family fun! This calendar is a community effort to benefit farmers and non-farmers alike! Browse events by photo tiles, list, or calendar view. Search by titles, topics, audience or other criteria. Click the event title for more details on each event.

VIRTUAL LIVE WEBINAR Living on a Few Acres: Permaculture and Risk Management
November 16 @ 6:00 pm

-

8:00 pm

$5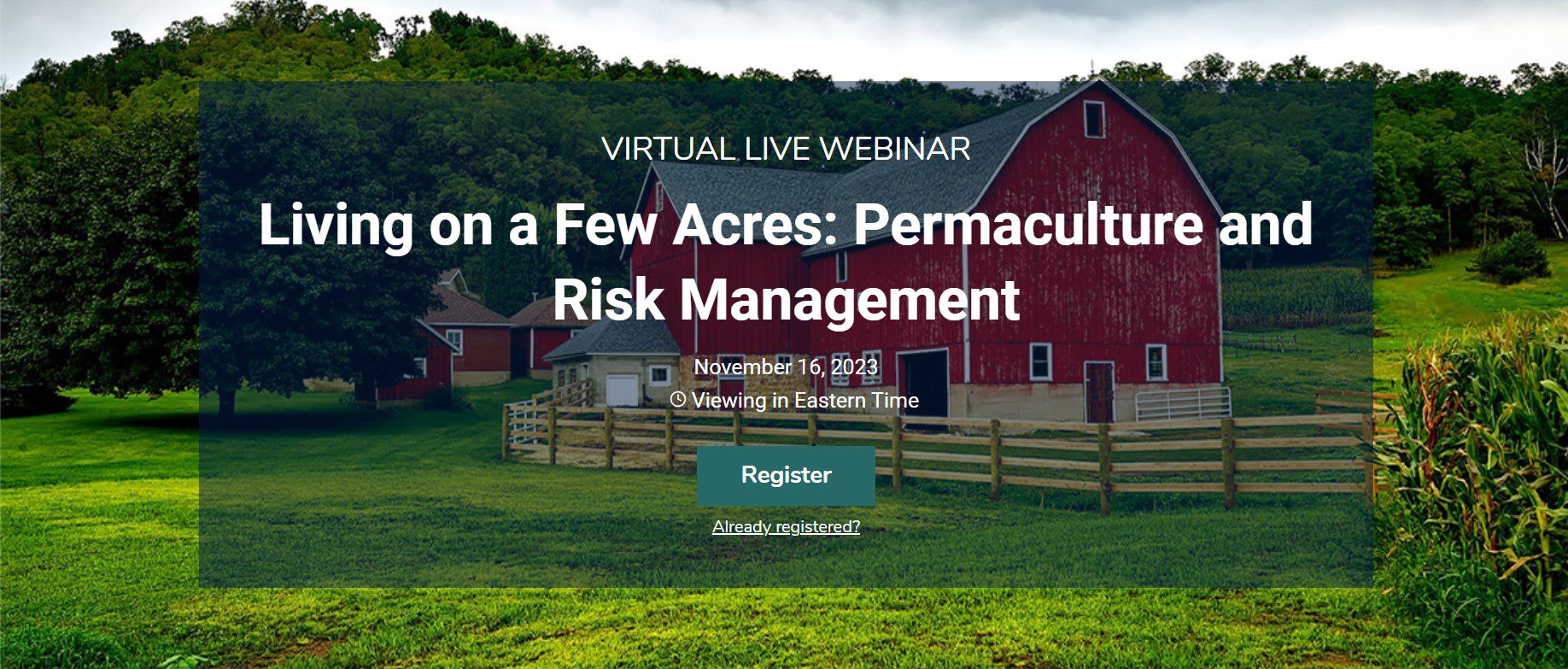 ABOUT THE WEBINAR
Permaculture involves the designed use of land to maximize sustainability, functionality, and permanent systems. This involves a holistic assessment and planning of the piece of land in question and of the people who will be living on that land. In this workshop, we'll discuss the core principles of permaculture and holistic farm design. Topics will include specific practices that are relevant for homestead and farm-scale operations. University of Maine Extension Professor Jason Lilley will present this session on permaculture.
EVENT DETAILS
Participate in an enlightening webinar focused on shedding light on the principles and long-term viability of permaculture.
WHEN
November 16, 2023
6 p.m. – 8 p.m.
Are you farming on a few acres as a hobby or a business? If your goal is to develop a profitable business, then developing a marketing plan can guide your efforts to attract, engage, and retain customers. By developing and executing your marketing plan effectively, you can drive sales, increase revenue and ultimately make money on a few acres. Extension Educator Linda Falcone will present this section on risk management.
Living on a Few Acres is a webinar series developed for the beginning producer or homesteader who is looking to become more self-sufficient or take the first step in producing a product. These two-hour programs are designed to explain the very basic information on how to get started but provide resources with more advanced information as you continue pursuing your goal or hobby. In 2023, Living on a Few Acres will be split into a spring & fall series. Topics in the spring included beekeeping, syrup making, soil fertility, vegetable gardening, tree and small fruit production, home food preservation, backyard greenhouses, and hydroponic production. In the fall, we are returning to discuss animal husbandry and home butchering.
Who is this for?
New and Beginning Producers
What will you learn?
Permaculture Management
Risk Management Basics
Registration is required to receive the link to access the webinar.
Registrants will also receive access to the webinar recording.
Register By: Nov. 15, 2023 11:59 p.m.