With Thanksgiving and Christmas just around the corner, this time of year is a busy and exciting one. The main thread that ties these holidays together is food! Across nations and cultures, celebrating around a meal of special dishes and delicacies is a constant, and whether you're just spending time with your immediate family during the upcoming holidays or throwing big get-togethers with lots of people that you love, you'll need some delicious food to serve up! In the Berks County area, you're surrounded by local eateries and places to buy tasty treats, so you'll have no shortage of options. Here are some of the spots we recommend!
The Bake Shop at Skyline Drive is owned by Scott Piergrossi, a school teacher who followed his passion and purchased the Skyline Drive location in 2022 after visiting the shop frequently as a customer. 
Throughout high school and college, Piergrossi worked in bakeries, expanding his skillset and learning from the experts around him. When he opened the doors to his bakery in May 2022, he hired his baking manager from his previous job to fulfill the role of his full-time baker. Together, they serve a rotating menu of homemade seasonal baked goods and fulfill custom orders, using fresh produce from Skyline Orchard whenever possible.
In addition to his own creations, Piergrossi has remained committed to utilizing and crediting recipes from the previous owner, work connections, family members and even recipes submitted through a community contest. His mother's own cinnamon chocolate chip cake recipe is a true crowd pleaser!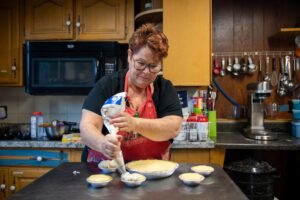 Community is important to Piergrossi. From hosting tastings and offering his treats to other businesses for their events to running fundraisers for schools and carrying local products in his shop, Piergrossi understands the importance of community involvement. The Bake Shop at Skyline Drive offers more than just baked goods—it is a nostalgic shop where people can visit to purchase gifts, decor, Pagoda merchandise and other food items from local vendors! 
"I think the sign of a good community is having local shops where food is fresh, and people can support local businesses. It's a sign of a thriving community," Piergrossi said.
As well as offering soups, ravioli, applesauce and other treats, The Bake Shop at Skyline Drive is known for its pies. Holidays are a bustling time for the bakery as customers pick up desserts for their events. Pies for Thanksgiving must be ordered by Nov. 17 and picked up on the 22nd, and Christmas desserts must be ordered by Dec. 16 and picked up by Christmas Eve. Not sure which one to offer at your holiday meal? Visit one of its Sample Saturday events. You also can catch them at the Christkindlmarkt at the Reading Liederkranz from Dec. 1 to Dec. 3 and purchase some German treats to taste.
Piergrossi's bakery in Reading is just about everything you dream about when you picture a local bake shop, and its desserts are sure to be a hit on your holiday table!
Holidays like Thanksgiving are a great excuse to indulge in homemade desserts and not think twice about going back up for a second serving. Frecon Farms in Boyertown, PA, is a farm market and bakery that serves everything from bourbon apple pies to fresh-made sandwiches, and you can find just about anything you need to fill your table here. Its selection of house hard ciders will tempt any palate during a holiday feast!
Tucked inside a charming rustic building in Fleetwood, PA, Shady Mountain Market is a bakery that knows how to do the classics and do them well. Providing shoppers with cookies, whoopie pies, baked oatmeal, cakes and angel food cakes, sandwich breads, sweet breads and sticky buns, you wouldn't think there'd be room inside for anything else, but in fact there is—enough for at least 15 different types of pies at one time. Whether you're looking for a time-honored favorite like pecan or something a bit more adventurous like raspberry custard, it's easy to find here and delicious to enjoy for any occasion.
It's almost impossible to have Thanksgiving dinner without apple pie, and it's definitely impossible to have apple pie without a scoop of sweet vanilla ice cream on top. Nothing goes better with a warm and flaky slice of pie than smooth, creamy handcrafted ice cream, and Plum Creek Farm Market and Creamery in Bernville, PA is the place to go! With a wide-ranging selection that includes fresh dairy products, locally grown produce, and ready-to-eat meals, you can get your holiday grocery shopping done in one delicious stop!
With local gems like these to visit, your holiday meals this year are sure to be full of fresh flavor and homegrown love. Have an extra slice of pie for us and enjoy the season!