This summer, pick up the freshest, tastiest fruits and vegetables available in the Greater Reading Area by shopping at your local farmer's markets. Farmer's markets pick produce and fruits at the peak of their growth. And because the goods offered at farmer's markets are typically locally grown, you're supporting your community, and your area farmer's when you shop at these local farmer's markets.
Find your favorites at the peak of the season, or discover something new at these local markets. Get tips and recipes from friendly farmers or purveyors, and reduce your carbon footprint by buying local goods grown and harvested on small area farms. You can often find handmade arts and crafts, honey, and flowers at these markets, and some even offer live music on occasion.
Don't forget to bring the kids! Farmer's markets are kid-friendly, and children will enjoy picking out something new. Some kids might want to help prepare a new recipe afterward. Check out these nutrition resources designed to help kids learn more about healthy food and eating habits with fun games and activities.
Visit these local farmer's markets to support a healthy and vibrant community and enjoy the freshest, most nourishing food available.
Penn Street Market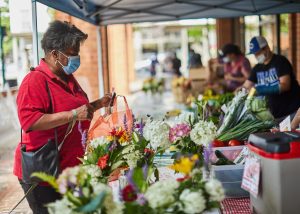 The Penn Street Market is an open-air farmers market located in the heart of downtown Reading, Penn. The market operates on Thursdays from 10 am to 2 pm, June through September, and features local farm-fresh produce, locally grown and butchered meats, handmade baked goods, coffee, eggs, and more. Get prepared meals and snacks from locally-owned food trucks and restaurants, and enjoy SNAP nutrition education programming and demonstrations supported by Reading's Food Trust of Philadelphia team. 
Participating vendors accept cash, credit cards, SNAP (food stamps), WIC, and Senior Farmers Market Nutrition Program vouchers. And the Berks Farm Bucks program helps ensure everyone can access fresh, nutritional food. Enjoy free live music, kids' craft corners, and educational programs throughout the summer as the Penn Street Market transforms downtown Reading into a vibrant community space. 
Fairgrounds Farmers Market
Fairgrounds Farmers Market hosts 65 local vendors hawking all kinds of wares. Shoppers will find the best local products here, from traditional farmer's market fare to more specialized offerings including wine, tea, even a Barber Shop. Indulge in fresh flowers and homemade French pastries for a special Sunday. Or pick up some seafood and Hillybilly Hooch for a Friday night fish fry. Whatever you want, you'll probably find it at Boscov's Fairgrounds Farmer's Market.
If shopping makes you hungry, you're in luck. Around a dozen local restaurants operate stands at the market, ready to serve eat-in or take-out meals using local ingredients prepared from scratch. Look for weekly deals and specials Thursdays from 8 am to 7 pm, Fridays from 8 am to 8 pm, and Saturdays from 8 am to 4 pm.
West Reading Farmer's Market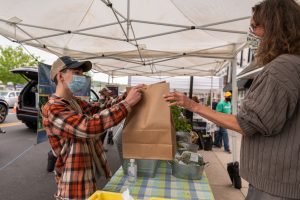 The West Reading Farmers' Market is committed to supporting Berks County's rich agricultural history. Each Sunday from 9 am to 12 pm, vendors offer the very best farm-fresh local meats, produce, eggs, artisan baked goods, and more. Winner of eight local awards since 2016, the West Reading Farmers Market is known for its high quality, support of sustainable practices, and dedication to the local community. Conveniently located in West Reading at the corner of Penn and 6th Ave., you'll find the area's freshest local produce and handcrafted goods, along with locally cultivated mushrooms, artisan soaps and lotions, homemade peanut butter, and much more.
With a wide range of hours and vendors to choose from, you can't go wrong when you shop at these local farmer's markets. Support local farmers and promote community health by turning your weekend into a fun, vibrant day at the market.