There's nothing quite like shopping for the best local ingredients to support the Berks County community during the Thanksgiving season. At Bendy Brook Farm, the Mast Family has been naturally cultivating and farming the land since 1941 across 120 acres in the beautiful Oley Valley. The owner, Nevin, has been working with livestock for over 40 years and is dedicated to providing the highest-quality meat products to continue the farm's long tradition of delivering the best beef, chicken, turkey, and pork products available. 
To understand how Bendy Brook delivers such impressive products in the festive season (and how to buy them), let's take a closer look at how they farm and do business to offer the best turkey for your dinner table. 
Chemical Free & Farm Fresh
At Bendy Brook Farm, every animal is raised naturally and with as little intervention with their daily routines as possible. You know you're getting high-quality ingredients because they organically raise their chickens and turkeys outside in dedicated pastures. The flocks are raised in moveable pens that are rolled down the pasture daily, always offering access to grass, bugs, and plenty of fresh air. For the holidays, their Thanksgiving turkeys are fresh, and can easily be frozen for Christmas dinner too. 
All of the ground turkey and turkey products at Bendy Brook Farm are packaged in November, and frozen with a vacuum seal for freshness and a 1 year shelf life. With such attention to detail and a wide range of turkey products available, every customer can find the perfect addition to their Thanksgiving meal.
In addition, Nevin said they offer their other products year round as well. This includes grass-fed beef, fermented foods, soy-free, whey-fed pork, and more.
Order Your Thanksgiving Turkey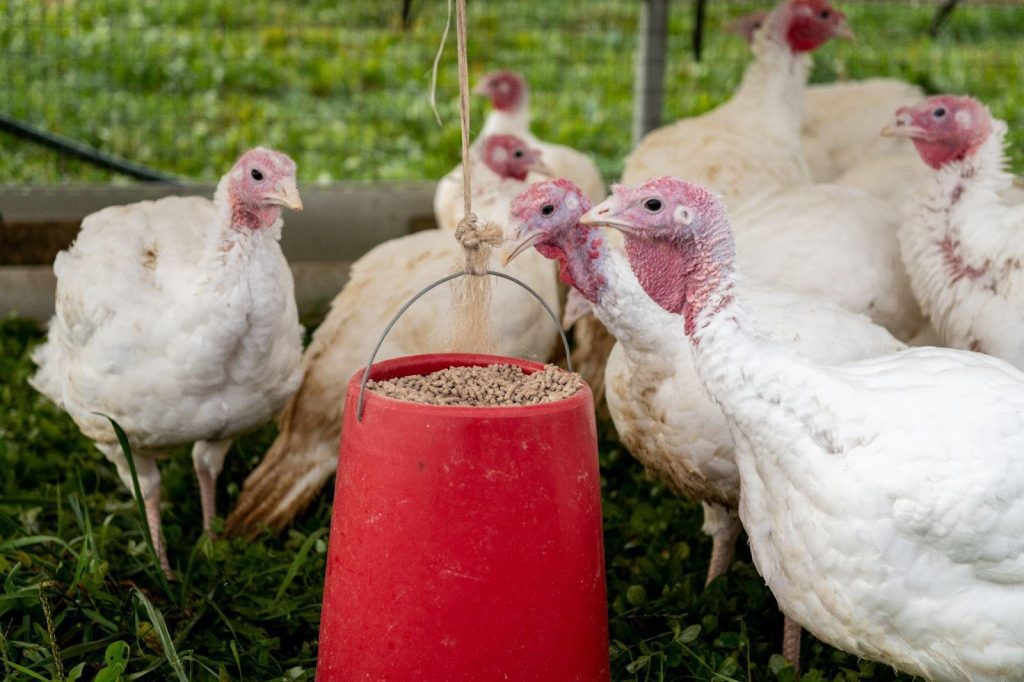 While Bendy Brook Farm does not currently offer "store hours," you can easily place an order online for your Thanksgiving turkey, beef, chicken, pork, and more. They ask that customers simply fill out their Order Form, which includes the quantities and types of products you want to order. 
Bendy Brook Farm starts taking orders for Thanksgiving turkeys in September and requires a small deposit. It's important to order early as Nevin said the turkeys will typically sell out every year. 
Southeast PA Home Delivery
Bendy Brook Farm also provides home delivery for products straight to your front door. They can deliver your turkey (and anything else you order) right to your home, every other Thursday afternoon. For home deliveries, it's important to note that they do only take pre-orders, and you'll need to sign up for their Southeast PA Delivery email list. After joining, you can submit an Order Form by Wednesday on the week of the next delivery you need.
Covered Bridge Farmstand
Bendy Brook Farm's turkey and other products are available at a lovely farmstand just down the road from their farm. Open during daylight hours, you can quickly discover their fresh beef, pork, chicken, turkey, and eggs. They do cash-only business at this location with an honor-system, and while you're finding the meat and eggs you need, you can also look for fresh-grown organic vegetables, mushrooms, local bread, fermented vegetables, and raw honey. 
Oley Valley Organics
You can also find a variety of Bendy Brook Farm's festive and seasonal products at Oley Valley Organics with the added convenience of being able to pick up other local and organic products too.
Buying Local This Season
The Berks County region's incredible farmers markets and local growers make shopping for a fresh and delicious holiday spread as fun as it is convenient. There are so many reasons to shop local, and you'll always get the freshest seasonal products, like succulent Thanksgiving turkey for the whole family to enjoy. In addition to supporting the local economy, when buying from local farms and businesses you don't need to worry about the quality of the ingredients or whether they're stocked around town. 
Other local farms that offer Thanksgiving turkeys include:
In addition to turkey, you can find everything else you need to complete your Thanksgiving meal including fresh produce, homemade desserts, delicious wine, and more. View a complete list of the farms in the area here and remember to support local this holiday season.